Hello minecrafter! This is Top 5 Multiplayer Maps, There's plenty of great multiplayer servers out there, but for something really interesting that you can run yourself you need to grab a specially created map.The easiest way to download Multiplayer maps at here.All about updated information top 5 Multiplayer maps
1. Mine 4 Dead
There's a good dose of zombies in Minecraft anyway, but why not sweeten that with a spoonful of Valve.Mine 4 Dead is classic zombie co-op-em-up Left 4 Dead recreated as a Minecraft multiplayer map. Take in three friends with you (you'll need them), and prepare yourself to be swamped by the smelly, rotting corpses of the undead. Custom textures recreate the special zombies of the original in look only, but you won't be thinking of the lack of special skills when you're fighting back the horde with nothing but a sword and a handful of cookies.
Diversity 2 Map Minecraft 1.8.8/1.8 Download and Install Diversity 2 Map  for Minecraft  taken on the CTM style gameplay provides the player 10 different game modes
FunLand 3 Map is a complete set of maps for an amusement park designed for Minecraft gamers.  It provides the Minecraft gamers the ability to build their own amusement park, which is complete will all the things needed, from restaurants to the roller coasters and other exciting rides.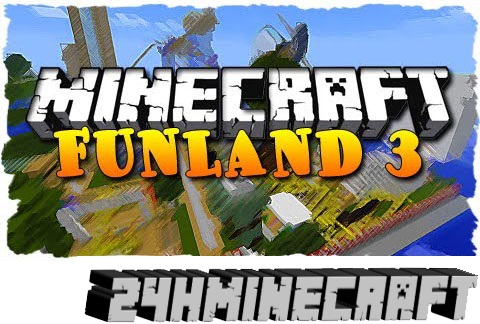 It adds a wide range of dimension of fun as well as different challenges that can be taken on. It is the newest version with the biggest update. It expands the mode in order to include more than 100 options and attractions for Minecraft gamers to create their own fun park. Minecraft gamers will surely appreciate the fun and excitement brought by FunLand 3 Map 1.8.8.
Have you ever heard about the Star Wars film? Do you like adventure Map? I think Yes. If you are a fan of Star Wars, this map is the best choice for you. Star War map will bring you to the world of ice planet where is the center of the famous battle of Hoth. Enjoy it!
5. Team Fortress 2 in Minecraft 
It's a classic multiplayer map in the world of Team Fortress, but in Minecraft Dustbowl is just that little bit more special. Indeed, this is probably one of the best examples of command block work you'll have ever seen, with a fully functioning control point system to capture the classic TF2 action.
Along with a recreation of the core classes and Red v Blu teams, Minecraft Dustbowl also has resupply lockers and dispensers that work flawlessly. Suddenly the fact that Dustbowl is a perfect visual replica of the original map is its least interesting feature.
Good luck!